Main content starts here, tab to start navigating
The Ragtrader
Slide 1 of 10
Slide 2 of 10
Slide 3 of 10
Slide 4 of 10
Slide 5 of 10
Slide 6 of 10
Slide 7 of 10
Slide 8 of 10
Slide 9 of 10
Slide 10 of 10
Available Monday, 12pm-10pm
Tuesday-Saturday, 12pm-11pm
Download PDF
APPETIZERS
Cauliflower Fritters

Cilantro/Sumac Aioli

$13

Wings

Yuzu Kosho, Shishito, Bacon, Sesame, Scallion, Cilantro, Lime

$13

Ribs

Pomegranate Molasses BBQ, Cilantro, Lime

$16

Fried Chicken Sliders

Sriracha Aioli, Red Slaw, Sesame Seeds

$16

Brussels Sprouts

Sweet Chili

$14

Crab Cake

Scallion Aioli, Pickled Fresno Chili, Watermelon Radish/Frisee

$22
CRUDO
Tuna Tartare

Togarashi Wonton Chips, Sesame, Tamari, Ginger, Red Onion, Avocado

$19

Beef Tartare

Hand-Cut Beef, Capers, Cornichon, Shallot, Egg Yolk, Grilled Bread

$17

Salmon Poke

Kombu Salted Wontons, Scallion, Sesame, Soy, Macadamia Nuts, Cucumber, Avocado

$17

Mini Ceviche Tacos

Market Fish, Aji Amarillo, Red Onion, Grapefruit, Cilantro, Jalapeno Aioli, Wonton

$18
SALADS
Caeser

Romaine Lettuce, Garlic Croutons, Grana Padano

$14

Add Grilled Chicken $9

Add Pan-Seared Salmon $13

Add Hanger Steak $14

Baby Kale

Red Wine Poached Pears, Goat Cheese, Smoked Cashew, Shallot Vinaigrette

$14

Add Grilled Chicken $9

Add Pan-Seared Salmon $13

Add Hanger Steak $14
PIZZA
Margherita

Mozzarella, Basil, San Marzano, Tomato

$17

Sub Cauliflower Crust $5

Allium

Fontina, Creamed Leeks, Garlic Confit, Crispy Shallot, Chive

$18

Sub Cauliflower Crust $5

Artichoke & Olive

Fontina, Chili Flake, Grana Padano

$17

Sub Cauliflower Crust $5

Sopressata

Fennel, Red Onion, Grana Padano, Gruyere, Fontina, Chives

$19

Sub Cauliflower Crust $5

House-Made Sausage

Marinated Broccoli Rabe, Ricotta, Arugula, Grana Padano, Chili Flakes

$18

Sub Cauliflower Crust $5

Hanger Steak

Fontina, Blue Cheese, Red Onion, Pear, Black Garlic, Arugula

$19

Sub Cauliflower Crust $5
ENTREES
Grilled Cheese

Creamed Leeks, Gruyere, Pickled Jalapenos, Arugula Salad, Smoked Tomato & Piquillo Dip

$16

Cauliflower Steak

Shuk Harissa Aioli, Parsley Salad, Grilled Scallion Chermoula

$20

Mushroom Bolognese

Hand-Cut Fettuccine, Kale & Cashew Pesto, Grana Padano, Herb Breadcrumbs

$26

Vegan Burger

Beyond Meat, Vegan Cheddar Cheese, Shredded Lettuce, Onion, Pretzel Bun, Vegan Secret Sauce, House Salad

$19

Cheeseburger

Certified Angus Beef, Sesame Bun, Cheddar, Lettuce, Onion, Secret Sauce, Fries

$19

Crispy Skin Salmon

Black Rice, Green Coconut Curry, Crispy Ginger, Cashew

$29

Hanger Steak Frites

Grilled Scallion Chermoula, Fries

$29
DESSERT
Cheesecake

Morello Cherry Compote, Poppy Seed Clusters

$11

Drunkin' Donuts

Pick and choose from 3 flavors: Chocolate & Rum; Raspberry & Gin; Banana & Bourbon

$14 per 3

$24 per 6

$48 per 12
Vodka
Absolut Citron

$11

Absolut Elyx

$15

Belvedere

$13

Chopin

$13

Grey Goose

$13

Ketel One

$12

New Amsterdam

$12

Reyka

$11

Simple

$11

Stoli

$11

Stoli Oranj

$11

Tito's Vodka

$12

Van Gogh Espresso

$11
Gin
Aviation

$12

Bombay Sapphire

$12

Boodles

$12

Citadel

$11

Dorothy Parker

$14

Ford's Gin

$11

Gunpowder

$12

Greenhook

$12

Greenhook Tom

$12

Hendrick's

$12

Monkey 47

$21

No.3 london Dry Gin

$12

Taqueray

$11

Perry's Tot

$12
Irish Whiskey
Blackbush

$12

Bushmills 10

$16

Jameson

$11

Jameson Black Barrel

$12

Jameson Caskmates

$14

Jameson Gold Reserve

$28

Middleton Very Rare

$40

Red Breast 12yr

$19

Red Breast 15yr

$28

Teeling

$13

Tullamore

$15

Tullamore 12 yr

$19
Japanese Whiskey
Hibiki Harmony 12yr

$17

Nikka Coffey Malt

$24

Yamazaki 12yr

$22
Canadian Whiskey
Crown Royal

$14

Canadian Club

$11
Scotch Whisky - Speyside
Balvenie 12yr

$19

Balvenie 14yr Caribbean Cask

$20

Glenfiddich 12yr

$16

Glenlivet 12yr

$15

Glenlivet 15yr

$19

Macallan 12yr

$19

Macallan 18yr

$52

Macallan 25yr

$175
Scotch - Islay
Bowmore 12yr

$16

Bowmore 18yr

$38

Lagavulin 16yr

$23

Laphroaig 10yr

$20
Scotch - Lowland
Auchentoshan American Oak

$12

Auchentoshan 12 yr

$16
Scotch - Highland
Glenmorangie 10yr

$15

Glenmorangie Nectar D'Or 12yr

$21

Oban 14yr

$22
Scotch - Blended
Chivas Regal

$12

Dewar's White Label

$11

Johnnie Walker Black

$14

Johnnie Walker Blue

$50

Monkey Shoulder

$15
American Whiskey - Bourbon
Angel's Envy

$15

Baker's 7yr

$19

Basil Hayden

$17

Buffalo Trace

$12

Bulleit

$12

Colonel EH Taylor Small Batch

$30

Eagle Rare 10yr

$15

Elijah Craig 12yr Small Batch

$13

Four Roses Small Batch

$14

High West American Prairie

$14

High West Campfire

$19

Hudson Baby Bourbon

$20

Hudson Four Grain

$17

Jack Daniel's

$11

Jim Beam Black

$11

Knob Creek

$13

Maker's Mark

$12

Michter's

$11

Michter's 10yr

$30

Woodford Reserve

$15
Rye
Angel's Envy

$21

Basil Hayden Dark Rye

$13

Colonel EH Taylor

$30

High West Double Rye

$14

High West Rendezvous Rye

$22

High West 'Seasonal'

$22

Hudson Manhattan

$17

Knob Creek

$13

Michter's

$18

Rittenhouse

$11

Sazerac

$16

Whistle Pig 10yr

$24

Whistle Pig Old World 12yr

$30

Widow Jane

$18

Woodford Rye

$19
Tequila
Casamigos Blanco

$12

Casamigos Reposado

$15

Casamigos Añejo

$18

Don Julio 1942

$43

Don Julio Añejo

$19

Don Julio Blanco

$18

Don Julio Reposado

$16

Dulce Vida Añejo

$14

Dulce Vida Blanco

$14

Herradura Blanco

$14

Herradura Reposado

$15

Herradura Añejo

$17

Milagro

$11

Milagro Reposado

$13

Milagro Añejo

$15

Patron Silver

$15

Patron XO Café

$12

Sauza Silver

$11

Tres Generaciones Añejo

$17

Yave Blanco

$12

Yave Añejo

$15
Mezcal
Amaras Mezcal

$17

Del Maguey Vida

$14

Del Maguey Pechuga

$38

Ilegal Mezcal Joven

$16

Montelobos

$12
Rum
Bacardi Light

$11

Bacardi 8yr

$12

Captain Morgan

$11

Caña Brava

$11

Brugal Blanco

$11

Brugal 1888

$15

Flor de Caña 7yr

$14

Gosling's Black Seal

$11

Malibu Coconut

$11

Mount Gay Black Label

$11

Plantation 3

$12
Brandy & Cognac
Courvoisier VSOP

$17

Hennessy VS

$16

Pierre Ferrand Ambre

$15

Martell Cordon Bleu

$35

Remy VSOP

$17

Louis XIII

$425
Vermouth
Carpano Antica

$12

Cocchi Americano/Torino

$12

Dolin Blanc/Dry/Rouge

$12

Noilly Prat Extra Dry

$12
Apéritifs/Digestifs
Aperol

$12

Averna Amaro

$12

Branca Fernet

$12

Branca Menthe

$12

Cynar

$12

Campari

$12

Contratto

$12

Lillet Blanc

$12

Lillet Rose

$12

Pernod Anise

$12

Pimm's No. 1

$12

Punt E Mes

$12

Romana Sambuca

$14

Romana Black Sambuca

$14

Ramazzotti

$12
Cordials/Liqueurs
Amaretto Disarrono

$12

B&B

$12

Baileys

$11

Grand Marnier

$14

Chambord

$12

Chartreuse Green

$11

Chartreuse Yellow

$11

Cointreau

$14

Drambuie

$14

Frangelico

$14

Kahlúa Coffee Liqueur

$12

Luxardo Maraschino Liqueur

$12

St. Germain Elderflower

$12

Tia Maria

$12
GF - Gluten Free DF - Dairy Free V - Vegetarian VG - Vegan
SATURDAYS, 12pm-4pm
Download PDF
Bottomless Boozy Brunch - $30/pp
Enjoy our 2 hour Bottomless Boozy Brunch! Every Saturday, 12pm-4pm Last reservation taken for bottomless, 2pm *a la carte available after 2pm **must purchase food
Build Your Own Mimosas

Stick with 1 flavor or try them all! Rosemary Grapefruit, Orange, Apricot

Bottomless Beers

PBR or Tecate
Brunch Food
In addition to our All Day Menu, we'll be serving the following brunch items.
Eggs Benedict

Smoked Salmon/Spinach/Poached Eggs/Yuzu Hollandaise

$17

Avocado Toast

Cherry Tomato/Radish/Togarashi/Cilantro/Vegan/Dairy Free

$14

Add Poached Egg $3

Ricotta Pancakes

Banana/Blueberries/Salted Maple Butter/Vegetarian

$17

Omelet

Spinach/Goat Cheese/Caramelized Onions/Chorizo

$17

Sub Egg Whites $2
Brunch Cocktails
Served 12pm-4pm a la carte
Balckberry Lemon Shandy

Pomegranate/Blackberry/Lemon/Witte Beer

$12

Morning Mule

Vodka/Orange/Ginger Beer

$12

Bloody Mary

Vodka/Tomato/Citrus/Spicy Pepper/Celery/Spices

$12
Signature Cocktails
Paradiso Spritz

Vodka/Maraschino/Grapefruit/Lime/Prosecco

$12

Rose Sangria

Rose Wine/Peach Schnapps/Orange/Milk Punch/Ginger

$12

Red Dawn

Vodka/Ginger/Spiced Pomegranate/Citrus/Soda

$12
Slide 1 of 3
Slide 2 of 3
Slide 3 of 3
Join us Monday, August 10th for Tacos!! Enjoy our sister restaurant, Street Taco, at The Ragtrader!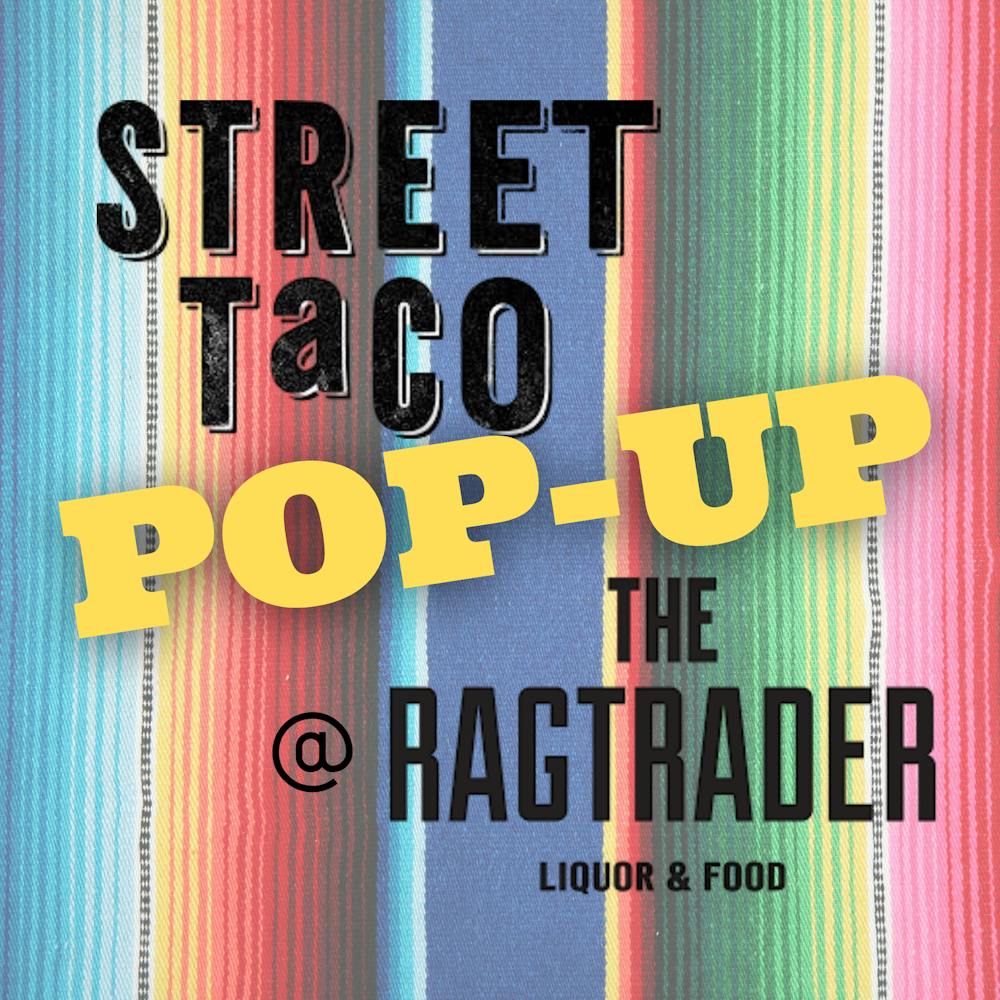 Download PDF